L


The Bay Church, Whitley Bay – an OSL member Church with a heart for Oneness
Very Revd Alan Dickinson (Dean of OSL Northern Region) and Revd Paul Asbury, both of OSL Member Church 'The Bay Church' in Whitley Bay, share their heart for Oneness in the local community. 
Father, may they all be one as You are in Me and I am in You; may they be in Us, for by this unity the world will believe that You sent Me.
– John 17:21
The Bay Church is located in Whitley Bay on the North East coast. It is an OSL member church  and currently has two members who are part of the Order, The Very Reverend Alan Dickinson (Dean of OSL Northern Region) and Reverend Paul Asbury.
Led by the Very Reverend Alan, its vision is to be a Kingdom focused family with a heart to encounter God and see revival in the North East and beyond by taking His Love, Presence and Power out into the world.
The Bay's desire is for oneness across the Church and to see spiritual Fathers and Mothers raised up who will in turn release their spiritual children into everything God has for them.
The Bay engages in a number of ministries that seek to minister to believers and show the love of Jesus to those in need: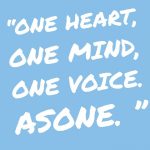 AsOne. Founded and led by Very Revd. Alan, AsOne North East is a relational network that brings both marketplace and Kingdom leaders together, to further the Kingdom of God and see revival in our communities. It seeks to empower believers to take the Kingdom of God into their areas of influence to see the North East transformed. AsOne is overseen by eight longstanding leaders from across the region. This is not an ecumenical movement but a preparation of the regional Church for the revival to come.
Community Cafe. Hosted on the third Saturday morning of every month, the community cafe is a place where people can come for free breakfast sandwiches and to connect with others in the church. It's a place where everyone is welcome to simply come for a chat or to receive prayer and ministry from the pastoral team.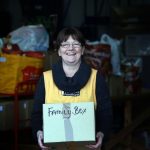 The Bay Foodbank. Founded in February 2012 and now an organisation in its own right, The BAY Foodbank aims to provide emergency food provision to individuals or families experiencing a financial crisis. This crisis happens when a family have no money because of low income, bereavement, benefit delay, redundancy, an unexpected bill or illness. People can be referred by churches, doctors, social services or other agencies. The Bay Foodbank and its team are well recognised in the local area and featured in the award winning film, 'I, Daniel Blake' (2016) which tackled issues of poverty in the North East of England.
The Healing Rooms. The Bay holds monthly sessions where anyone from the church or local community can come for prayer for healing. The church passionately believes that God is interested in every aspect of a person's life and that includes their physical wellbeing; and that as a result, He is still in the business of healing today.
Parish Nursing. Our team of Parish Nurses minister to those in the church and local community, supporting them towards whole person well being. Whether it's simply giving moral support during a medical crisis – giving general health advice or educating for health –'signposting' (directing) people to various support or medical services – praying for people – clarifying medical procedures or issues – or simply listening (which they do an awful lot of!) – they focus on the person, rather than just a specific medical condition, integrating the different aspects of health.
Sozo. Bethel Sozo is a unique inner healing and deliverance ministry in which the main aim is to get to the root of those things hindering your personal connection with Father, Son and Holy Spirit. Sozo is the Greek word which means "saved, healed, delivered." Sozo contains the whole package of being made whole or well.